(30) Mixed Fruit-Flavored Fruit Chews Per Bottle Potency Per Serving: 25mg CBD + 5mg of Melatonin
In a Nutshell: OPEN. CHEW. SLEEP ... Open The Bottle. Chew The Gummy. Soothe yourself to sleep. You'll feel the mind-calming effect kick in quickly... so you can hush those voices in your head and drift off to sleep quickly.
Why It's Special: These delicious fruit chews deliver just the right amount of Melatonin and CBD so you can find that sweet slumber. And because it's time-released, you can enjoy a calm, restful sleep for 6-8 hours without waking up groggy or tired. With a naturally occurring and healthy sleep cycle every night, how much better will your life be?
Perfect For: Slowing down racing thoughts and drift off quickly. Get a full night's rest of uninterrupted sleep. Pop a gummy or two so you wake up recharged & ready to take on the day!
✅ Deep sleep that lasts all night long
✅ Fall asleep quickly and easily on command
✅ Wake up refreshed and energized, excited for the day
Purity: THC-Free and grown on a 100% American farm, in mineral rich soil conditions under strict agricultural guidelines, with zero pesticides or GMOs.
✅ Third-party lab tested for consistency, quality, and purity
✅ No chemicals or harmful additives
✅ Gentle filtration process keeps cannabinoids & terpenes intact
✅ Clean CO2: isolates exact compounds & removes 100% of the THC
✅ Eco-friendly, seed to bottle sustainable
✅ Made with non-GMO hemp, gluten-free, vegan

93% of customers recommend Apetropics to friends (2022 Brand Health Report)
Take 1-2 gummies twenty minutes before sleep. Each Apectropics Dream Chews gummy delivers 25mg of Broad Spectrum CBD and 5mg of melatonin. These CBD gummies are vegan, GMO-free, and THC-free!
Starts working in 15-30 minutes.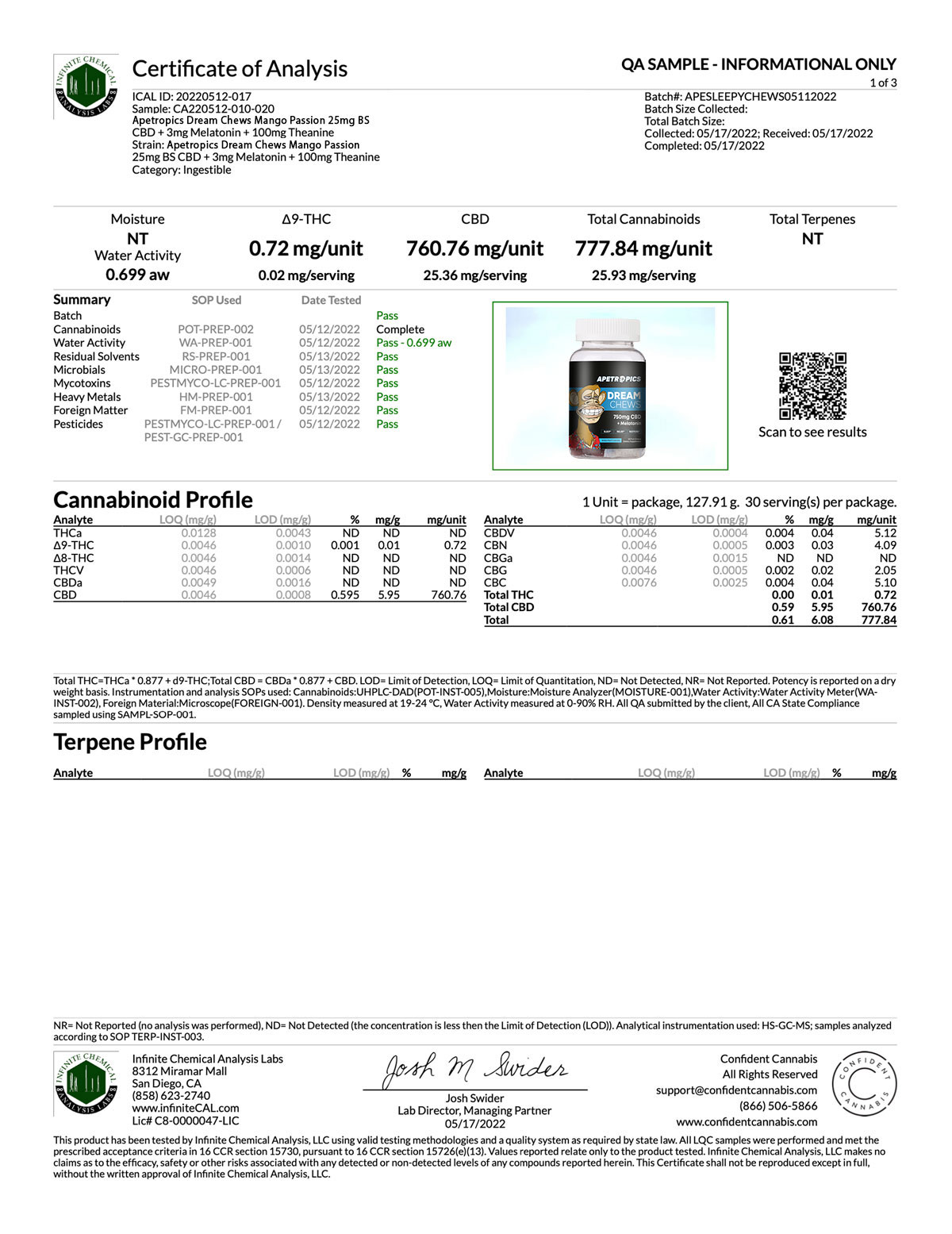 Ingredients: CBD, melatonin, Sugar, Light Corn Syrup (Corn Syrup, High Fructose Corn Syrup, Vanilla, Salt), Purified Water, Pectin, Coconut Oil, Natural Flavors, Citric Acid, Orange Food Color (Water, Propylene Glycol, FD&C Yellow 6), White Food Color (Water, Titanium Dioxide, Propylene Glycol, Xanthan Gum, Modified Corn Starch, Citric Acid, Potassium Sorbate)
"Finally I can sleep at night!!!"

"For years I have struggled to sleep all night. Sometimes I can't fall asleep and then other times I wake up in the middle of the night with a racing mind. Good sleep was a struggle for me until I started taking Apectropics Dream Chews about 20 minutes before I want to fall asleep. Now I fall asleep fast and stay asleel. Sometimes I wake up to go to the bathroom, but can easily go right back to sleep. Now I wake up at 5:30am ready to own the day! Thank you Apetropics!!!"